Online Ordering for your Beer-to-Go! & NEWS ALERTS!!
Everything you need to know about our current Beer-To-Go selection is noted below. Scroll through our selection of cans + Crowlers and Kegs and then choose pick-up or delivery.

Online orders for crowlers and 4-packs can be picked up same day. Keg orders require 24 hours notice and orders for delivery must be placed by midnight before your scheduled delivery day. Delivery requires a $25 minimum but our $10 delivery fee is waved when you hit $50 in goods. Thank you so much for your support. Happy Beer Shopping!
Delivery Options
Select your beer and choose your pick up or delivery option in the pop-up window.
German Style Pilsner:



Crisp, Clean, German Style Pilsner

(You Should) Smile More IPA:

A West Coast Style IPA brewed by the women of the Ballard Brewed Coalition.

Mixtape Romeo:

Lagered for several weeks to create a clean, refreshing crispness and dry hopped with Mandarina Bavaria and Belma for aromas of tangerine and strawberries. Load it up, press play and enjoy.

Mosaic Pale Ale:


A veritable mosaic of aroma and flavor in this pale ale.

NW Red:


Rich, red color and a smooth, satisfying taste. A hint of chocolate seals the deal.

Citra IPA:


Designed to be light and bright in both color and body. Sunshine In a Glass!

Participation Trophy IPA:

Cryo Mosaic in the whirlpool builds the hoppy backbone of this beer. Dry-hopping with Amarillo and El Dorado adds aromas of orange and grapefruit zest plus hints of stone fruit.

Good Times Machine IPA:

To reach this pinnacle of carefree and cool, a beer's got to be loaded with some pretty groovy hops. Heavy additions of Citra, Mosaic Cryo, and Galaxy deliver the passion fruit, citrus and berry. This is no regular day IPA, this is a Good Times Machine IP

Commonwealth of Goodness-Kentucky Bourbon Barrel Aged Imperial Stout:

A big, bold, roasty stout brewed with generous amounts of English crystal malt, chocolate malt and roasted wheat and barley.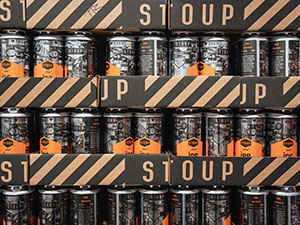 Saison:

We start with a grain bill of Northwest-grown Lyon Pilsner Malt from LINC Malt and German Pilsner malt then fermented with two of our favorite Belgian yeast strains. The result is a crisp, dry beer with aromas of fruity esters a touch of pepper.

Robust Porter:


Our most award winning beer is rich in color and character hinting at decadent chocolate treats dipped in coffee.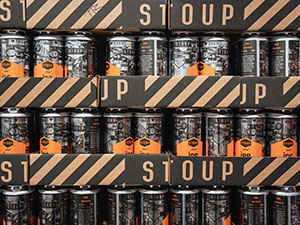 Global Superstar IPA:


This beer rocks hops from three world class growing regions around the globe. These hops have come together in perfect harmony, destined to be the next global superstar.

Please & Thank You IPA:


This newest version of our rotating Hop Exploration Series is hopped with experimental HBC 586, Citra Cryo and Riwaka. It's packed with aromas of mango, guava and citrus. A balanced malt profile and a beautiful looking beer to boot?

Zymurgirl IPA (Pink Boots Collaboration w/Old Schoolhouse Brewery):

With the power of Pink Boots, our lady brewers joined forces with the Super Women of Stoup to take the "bro" out of Sabro and brew this incredible IPA to celebrate the world's original brewers of beer: women!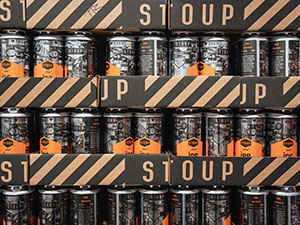 Sandals & Flannels (Hazy) IPA:

In an effort to celebrate those angst filled days, we brewed this hazy IPA (like the skies back then, get it?). Unfortunately, due to our naturally sunny dispositions and close proximity to so many hopeful millennials, we couldn't help but pack it with th

Beer To Go
Sometimes you want to drink your beer on your own turf, or (in normal times) on somebody else's turf, or just not our turf. We've got you covered with kegs, crowlers / growlers and cans too!
Kegs
For your special event, house party or kegerator. We're ready
We offer kegs in 3 sizes:
A 1/6 bbl holds 42 pints and costs $95*
A 1/4 bbl (or pony keg) holds 62 pints and costs $125
A 1/2 bbl holds 124 pints and costs $185
*Pricing can be affected by the style

We are able to supply taps if needed. Please note that a deposit is taken for kegs ($100) and taps ($50).
Deposits are refunded within one week of everything being returned in working order.

Please order your keg via our online ordering system. Kegs will be ready for pick up next day. Questions can be sent to [email protected].
Crowlers & Growlers
Bring the Growler Home. Pack the Crowler on your next Adventure
Don't need a full keg of beer? We have a fridge stocked with pre-filled selections of our newest releases in 32oz Can Crowlers. We can also exchange Stoup branded reusable glass growlers and fill them with most of our beer selections. There are times when an extremely limited or higher abv beer won't be available in growlers but those instances are rare. Prices range from $12–16

Please note that while COVID restrictions are in place, we are not filling outside growlers. Exchanging Stoup growlers allows us to properly sanitize and keep them in rotation.